Chairman of the Ulster County Legislature, David B. Donaldson would like to share some information and important resources available in Ulster County and New York State to help residents and small business confront the second wave of the COVID-19 pandemic.
COVID-19 Updates
New York State COVID-19 Micro Cluster Strategy
New York State has transitioned to a Micro-Cluster Strategy to identify COVID-19 clusters and categorize them into one or more color-coded zones with corresponding levels of restrictions based on severity: Red Zones, Orange Zones, and Yellow Zones. The new rules and restrictions directly target areas with the highest transmission of COVID-19 cases & surrounding communities. Learn more.
Overview of Micro Cluster Zones and Restrictions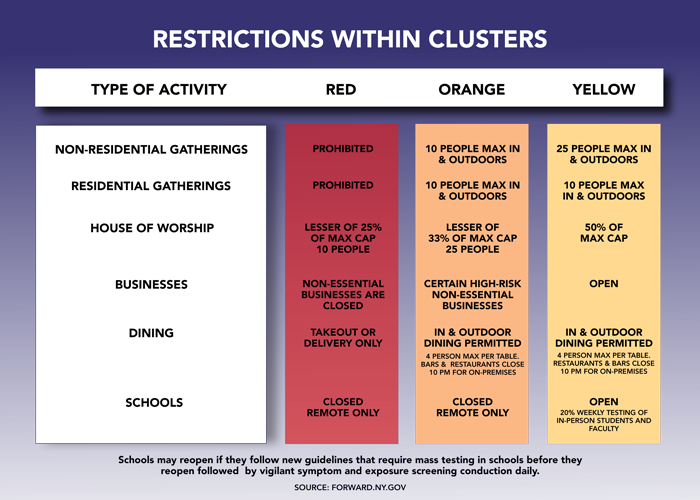 Click here to learn more about Restrictions by Zone
Download a comprehensive list of how different communities are categorized into specific tiers. Learn more .
Find COVID-19 hot spots zones by address
Check your address. Click here.
The NY Forward Business Guidance Lookup Tool will help determine whether your business is able to operate and the public health and safety standards with which your business must comply. Learn more.
Ulster County COVID-19 Dashboard
View the number of active COVID-19 cases in Ulster County. Learn about countywide testing and positivity rates, cases by municipality, and neighboring county data. Learn more.
Protect yourself and your family from COVID-19
Keep yourself and the people you love safe and healthy. Learn about coronavirus symptoms, emergency warning signs, childhood inflammatory disease related to the virus, prevention and mask and face covering guidance. Learn more.
COVID-19 testing in Ulster County
Learn about Ulster County COVID-19 testing protocols and where to go to get tested. Learn more
Ulster County COVID-19 resources
Community | Employment | Food | Project Resilience | Schools & Childcare
Substance Abuse Disorder | Behavioral Health
Get the latest information on the COVID-19 pandemic in New York State
Sign up for COVID and vaccine updates | Download COVID Alert App
Know your rights
Governor Cuomo has signed emergency legislation guaranteeing job protection and pay for New Yorkers who have been quarantined as a result of novel coronavirus, or COVID-19. Read about important emergency protections for insurance, rent and mortgage, student loans, price gouging, and other many other protections available to New York State residents. Learn more.
ULSTER COUNTY
County and other local financial assistance for businesses and nonprofits
COVID-19 INFORMATION FOR BUSINESSES
Ulster County Department of Economic Development
Visit the Ulster County COVID Information website for helpful information from the Ulster County Department of Economic Development about resources available to Ulster County small businesses and get answers to frequently asked questions and sign up for Economic Development updates. Learn more.
We encourage small businesses and nonprofit organizations to reach out to the Ulster County Department of Economic Development for assistance and information.
Email: OED[at]co.ulster.ny[dot]us
Tel: 845-340-3556
Ulster County offers low-cost, flexible financing through countywide and municipal Revolving Loan Funds (RLFs). RLFS are financing tools for communities to provide loans to local businesses, which in turn, create jobs and leverage other private investment while helping a community diversify and stabilize its economy.
RLFs fill the gap between a businesses' financial needs and the amount that can be borrowed from a lender. RLFs can help to complete a business' financing package by offering fixed rate, low-interest loans, revolving lines of credit or loan guarantees. RLFs have an application fee, closing costs and attorney fees. Learn more.
Community Capital Resources is a Small Business Administration (SBA) "Microlender." Community Capital Resources offers business loans that are perfect for new and existing businesses that have difficulty meeting the credit or collateral requirements of a conventional lender. Loans range from $1,000 to $50,000 at affordable interest rates. Learn more.
Loan uses include:
Materials, inventory, equipment
Marketing, licensing, working capital
Energy savings upgrades
Eligibility Requirements:
Borrowers must complete a business plan
And be the principal owner of the business
And be at least 21 years of age
Learn more about COVID-19 small business lending options and resources.
As part of their continuing commitment to elevate our impact in rural America, LISC is inviting small business owners in rural locations across the country to apply for the for the LISC-Lowe's Rural Relief Small Business Grant program. Only small businesses located in rural communities are eligible at this time. Rural communities are defined as having a population of 50,000or less. A community is defined as the city/ town/ village where your business address is located. If the business is mobile (a food truck, fishing boat, ride share driver, etc.) please use the address where your vehicle is stored during non-business hours. The next grant application period will open on Tuesday, December 29th until January 5, 2021. The next round will start on January 26, 2021.
Click here for more information.
WomensNet is an entrepreneurial community of women who create unique content and special reports to help women business owners. Grants are given away at least every month with a monetary gift of $4,000 and a year-end gift of $25,000. Applications are due monthly at the end of the month. The application cutoff for the next $10,000 Amber Grantis December 31, 2020. Click here for more information on how to apply.
NEW YORK STATE
Financial assistance for Ulster County small businesses and nonprofits
Empire State Development
New York State and Ulster County are working to support small businesses throughout the COVID-19 crisis, by providing up-to-date resources and information about COVID-19-related loans, funding and business counseling. Learn about COVID-19 loans and resources for New York State small businesses and nonprofits. Learn more.
Support services for small businesses to renegotiate their lease and avoid eviction. Learn more.
The New York Forward Loan Fund (NYFLF) is a new economic recovery loan program aimed at supporting New York State small businesses, nonprofits and small residential landlords as they reopen after the COVID-19 outbreak and NYS on PAUSE.
The NYFLF targets the state's small businesses with 20 or fewer full-time equivalent (FTE) employees (90% of all businesses), nonprofits and small residential landlords that have seen a loss of rental income. The NYFLF is specifically timed to support businesses and organizations as they proceed to reopen and have upfront expenses to comply with guidelines (e.g., inventory, marketing, refitting for new social distancing guidelines) under the New York Forward Plan.
Access to loans for small residential landlords will be targeted to owners with residential buildings of 50 units or less, and will prioritize loans for residential landlords whose properties are in low and moderate income census tracts or who serve low to moderate income tenants.
Pre-applications for the New York Forward Loan Fund are now open. This is not a first-come, first-served loan program. Applications will be reviewed on a rolling basis.
For small businesses and, you are encouraged to prepare your pre-application in advance by taking advantage of the application preparation resources available here.
· Small businesses and nonprofits must employ 20 or fewer full-time equivalent (FTE) employees
· Small businesses must have gross revenues of less than $3 million per year
· Nonprofits must provide direct services and have an annual operating budget of less than $3 million per year
· An eligible small business or nonprofit must not have received a U.S. Small Business Administration Paycheck Protection Program of greater than $50,000 or an Economic Injury Disaster Loan (EIDL) for COVID-19 of any amount, except for EIDL advance grant of up to $10,000.
Click here for more information on how to apply.
FEDERAL
Financial assistance for Ulster County small businesses
The $2 trillion CARES Act also provides benefits for businesses with existing SBA loans. Eligible businesses can apply for the SBA to pay interest and principal payments for 6 months on their existing SBA loans. Learn more.
· For SBA loans made prior to March 27, 2020
· SBA loan types eligible: 7(a), community advantage, 504 and microloans.
EIDL Loans provide up to $10,000 of economic relief to businesses that are currently experiencing temporary difficulties as a result of the COVID-19 crisis. The EIDL program is for any small business with less than 500 employees (including sole proprietorships, independent contractors and self-employed persons), private non-profit organization or 501(c)(19) veterans organizations affected by COVID-19. The Economic Injury Disaster Loan Advance funds will be made available within days of a successful application, and this loan advance will not have to be repaid. Learn more.
The SBA Express Bridge Loan Program enables small businesses who currently have a business relationship with an SBA Express Lender to access up to $25,000 quickly. These loans can provide vital economic support to small businesses to help overcome the temporary loss of revenue they are experiencing and can be used to bridge the gap while applying for a direct SBA Economic Injury Disaster (EIDL) loan. SBA Express Bridge loans will be repaid in full or in part by proceeds from the EIDL loan. Learn more.
The SBA is providing a financial reprieve to small businesses during the COVID-19 pandemic. The SBA will automatically pay the principal, interest, and fees of current 7(a), 504, and microloans for a period of six months. The SBA will also automatically pay the principal, interest, and fees of new 7(a), 504, and microloans issued prior to September 27, 2020. Learn more.